Leankor is proud to announce that we have been accepted as the only Canadian company to the recently announced Salesforce Incubator.  This is a five-month program based in San Francisco to encourage innovation and collaboration in Salesforce's community of customers, partners and developers.
We will be working in a peer-to-peer environment with the other 13 incubator companies and have access to Salesforce executives and experts on the Salesforce ecosystem, including ISV partners and consulting partners in the Salesforce Partner Community.  As part of this first batch of  startups, the focus will be on SaaS business built on the Salesforce platform.  This an homage to the Salesforces roots as being a pioneer in the SaaS environment.  There are companies from various  business stages ranging from prototype (like Kapuhonu from Hawaii), to product/market fit (us Leankor from Calgary, Canada), to early-stage system integrators (like Keste from Texas).
Here is a list of the rest of the Salesforce Incubators.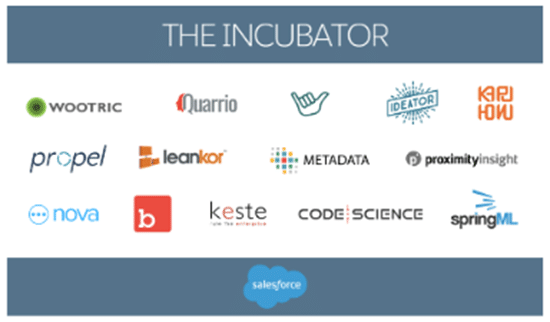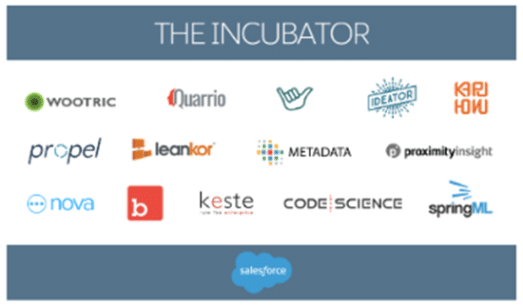 Bud Mobile: Contextual, real-time messaging to enable collaboration from within Salesforce products.
CodeScience: System integrator focused on enabling ISVs, expanding to artificial intelligence (AI) and natural language processing.
Ideator: Platform to enable innovators within an organization to connect with the tools,people and resources they need to be successful.
Kapuhonu: Developing an integration framework, Hub, to enable Salesforce developers to quickly connect any service from within the Salesforce platform.
Keste: System integrator focused on helping companies implement Salesforce Lightning and Communities to connect with their customers in new ways.
Leankor: Project management software that connects to Salesforce CPQ.
Metadata: An intelligent demand-gen solution that translates marketing automation data into laser-focused targeted advertising.
Nova: Intelligent messaging and predictive task management for sales.
Sambuca: Sambuca allows Product Managers or Marketers to tag page interactions within their applications that are most important to them and send the interaction data to any of their favorite tools — all without writing a single line of code.
Propel: Product lifecycle management (PLM) solution built 100% on the Salesforce platform to help customers get engaged throughout the entire product development and launch process.
Proximity Insight: Customer insights delivered to store associates in real time.
Quarrio: Business intelligence powered by conversation.
SpringML: Predictive analytics platform to provide sale teams with the insight they need to make better decisions, faster.
Wootric: In-app Net Promoter Score (NPS) and feedback platform to enable companies to boost customer experience.
We want to congratulate all 13 companies that were selected to be part of this Salesforce Incubator and we look forward to working along side you all in at the Incubator workspace in San Francisco.
More information from the Salesforce site in regards to the incubator.
If you plan to attend Dreamforce, please stop by the Startup Valley to meet Leankor and all of the Salesforce Incubator family on Friday, Oct. 7. Also, applications for Salesforce's second batch of Salesforce Incubator startups, focused on AI innovation, will open November 2016.