Transform Processes for Accelerated Biotech, Medtech and Pharma Project Velocity
Leankor helps link business and science. Leankor's comprehensive solution streamlines and connects resources, processes and work from the research lab to product launch.
100% Native to Salesforce
Advance Your Work and Project Management with a 360-View
Research and development (R&D), quality management, manufacturing and go-to-market projects are vastly different across biotech, medical device and pharmaceutical companies. What is the same is that each are trying to achieve a common goal—accelerated time to market. In the world of enterprise work and project management, delays are common, managing integrated timelines is difficult and ensuring everyone's contributions matter can seem like an impossible task. However, the right solution can help reduce those complexities. Leankor enables users to visually create their complex projects, manage their resources, assign work effectively, find available capacity, identify risks and empower end users to manage their own business.
The impact? Leankor's solution allows organizations to cost-effectively develop long term plans, accurately record data in real time, assemble precise, up-to-date project information, access comprehensive tracking dashboards and collaborate along every phase from discovery to product launch. Whether you need a solution to address project management for regulatory, commercial operations/marketing, or supply chain/distribution, Leankor fits your unique needs.
---
---
The Right Fit for the Large-Scale Challenges of Biotech, Medtech and Pharma Projects
Transformative
Achieve a Complete, 360-View from Project to Portfolio
Provide all your teams the transparency they need from discovery to launch. Leankor provides a user-friendly interface and is equipped with dynamic dashboards and reporting to enhance the analysis and planning of projects and portfolios, rolling them into a holistic view. With Leankor, users will employ a highly visual project management solution with the ability to create, visualize and adjust workflows and plans as needed.
Scalable
Scale Up from Discovery Through Product Launch
Support process changes and efficiently scale as your product progresses from discovery to launch. Leankor provides complete visibility into resource availability and workload, ensuring individuals are not over or under capacity. It distributes your workflows to achieve an optimal process and helps develop, test, manufacture and launch products on time, every time.
Flexible
Link Plans, Workflows and Users
Empower teams by providing a solution that allows them to streamline workflows without disruptions. Leankor seamlessly automates processes without disrupting individual or team's workflows and provides stakeholders the view they need for informed decision making. Leankor's highly visual and simple to set up solution can link different work styles, from Kanban, Lean, Agile, Gantt, Waterfall, to hybrid and more.
Visual
Operate with an Interface for Every User
Optimize your user's experience with a highly intuitive and visual interface. Leankor designed a solution that is easy to implement and requires little training, ensuring success for every employee, no matter their tech proficiency. Scientists, stakeholders, project leads, managers and more can easily utilize the "my work" function for effortless daily planning.
Collaborative
Flow Information Through Teams and Phases
Coordinate and exchange information with all internal and external teams. Leankor provides an all-encompassing mobile and desktop solution where users from all departments can exchange information, identify risks, gaps and discuss any other information.
Reliable
Perform Valuable Risk Analysis with Ease
Identify any and all missing elements in your data. Leankor's real-time data visibility provides viable information to identify and analyze gaps and risks. This safeguards that all relevant fields are covered, risks are appropriately addressed and all critical elements are available for informed decision making.
Effective
Record and Update Information for Accurate Analysis
Document information in a comprehensive application. Leankor allows organizations to put aside the risk of information being lost by providing a solution that updates data in real-time and shares information across teams. This ensures up to date and accurate data is always being used by everyone, helping to accelerate timelines.
Sanofi Accelerates Go-to-Trial Times with Leankor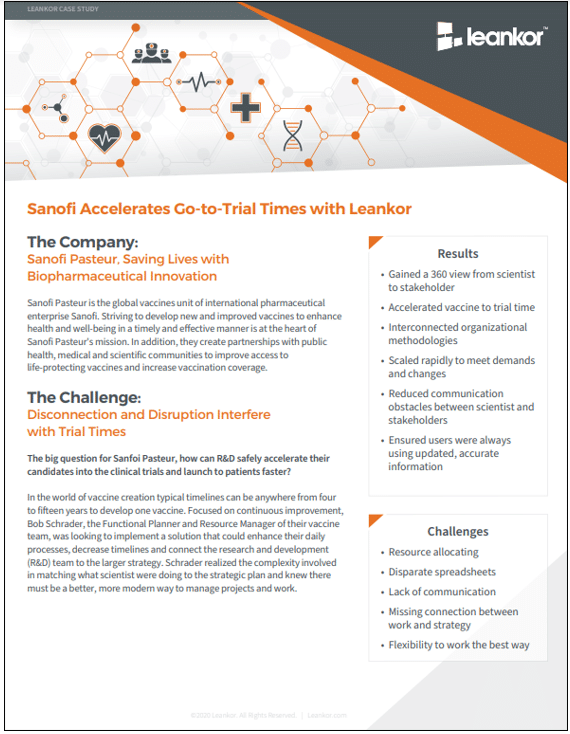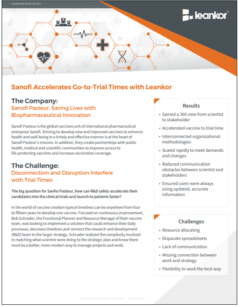 Learn how Sanofi increased project velocity for accelerated go-to-trial times with Leankor.
Protect Your Projects.
Trust the Work and Project Management Solution Developed for Efficiency.
Discovery & Development
Leankor equips research teams with the solution they need to manage projects, schedule resources, and find available capacity. Leankor provides a powerful visual solution for managing complex projects, identifying integrated timelines and addressing risk variables across one or multiple projects. Better resource management and project analytics provide more visibility into available resources and capacity, enabling teams to be more agile while increasing efficiency and project velocity.
Quality Management
Leankor helps enterprises develop an effective, interconnected system for managing projects and tasks that span multiple groups and many projects. Now users and teams can get immediate visibility into both their daily responsibilities and their project work. As project timelines shift or new projects are added, they are updated with real-time notifications. Users now have the solution they need to manage their personal priorities while seeing how their contributions affect the organization as a whole.
Product Launch
Leankor supports successful planning and managing multi-channel strategies for medical drug and device product launches. As a launch moves through phases and teams, Leankor ensures all channels are integrated and connected. From product, to marketing, to sample distribution and through delivery, Leankor seamlessly interconnects teams to ensure the myriad of components are delivering at the right times to the right places.
Manufacturing
Leankor helps accelerate and streamline product production by tracking and monitoring sensitive, connected timelines, identifying risks and delays before they become problems. It establishes clear definitions and constraints to all users, in real-time. Leankor can help create more scalable batch control when moving from pre-clinical to release for biotech and pharma, as well as supporting the delivery of products exactly per design for medtech.
---
---
Benefit More Consumers Through Proactive, Quality-Driven Management
Ready to seamlessly connect business and science?
Trust the comprehensive solution focused on risk mitigation, user connection and on-time delivery.
---
---
You're in good company.