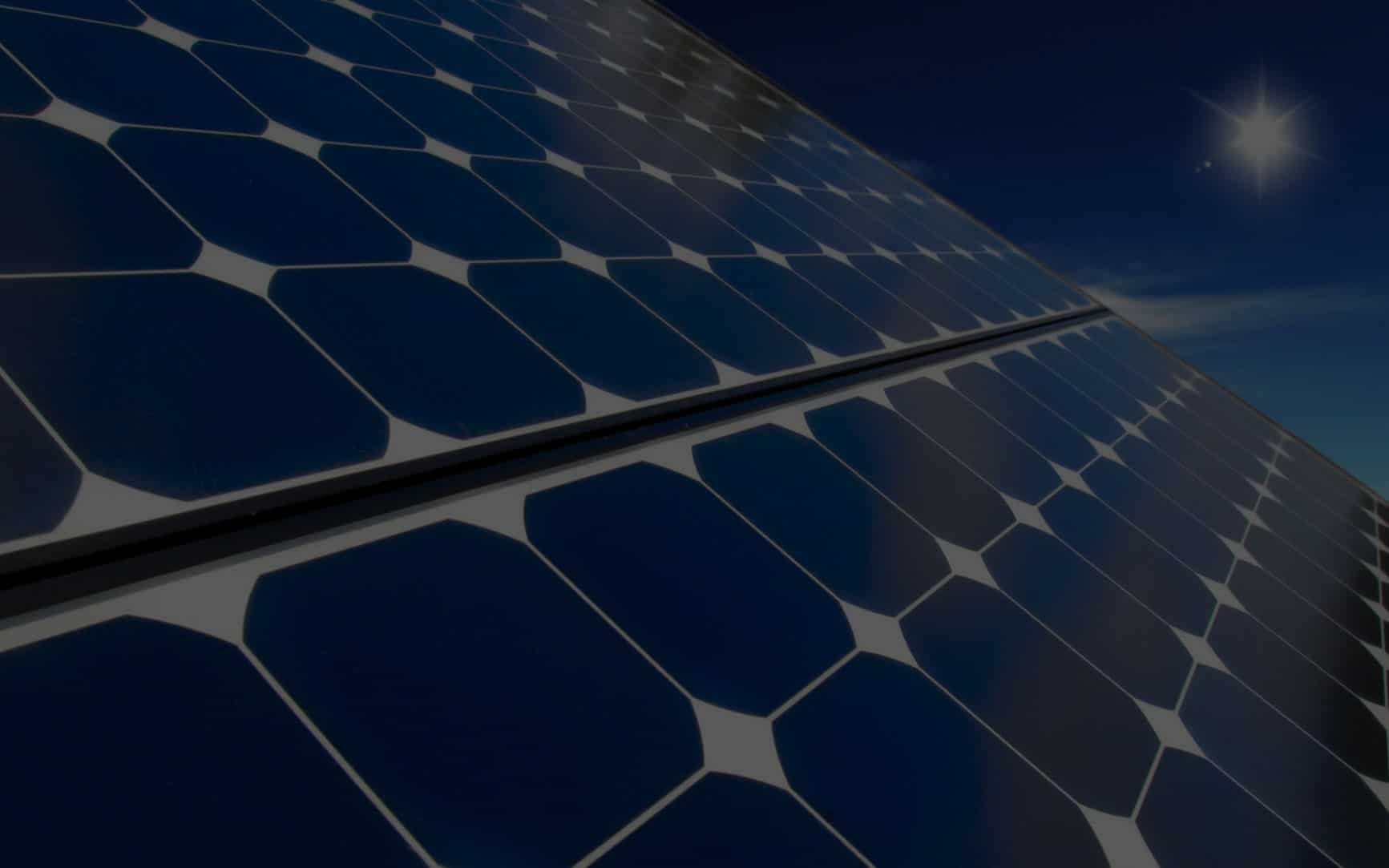 Increased Visibility and Collaboration Ensures all Phases of Large Scale Solar Projects are on Time
Leankor's all-in-one solution allows stakeholders to visualize the entire solar project for a 360 customer-centric view.
100% Native to Salesforce
Compile Customer Data and Foster Stakeholder Collaboration, All in One Place
Delivering on time is critical to the success of each phase of solar development. With Leankor's cloud-based work and project management solution, managing the countless projects, projects within projects and stakeholder alignment has never been easier. Developed to address the specific needs of large, long running and complex projects, Leankor reduces risk of solar projects by providing real-time insight into mission critical project interdependencies and individuals working on them throughout their lifecycle.
The impact? Using Leankor, stakeholders have complete visibility into all customer information from sale to completion, which is securely located in one all-inclusive solution. This exceptional transparency results in the ability to recognize revenue faster for optimal cash flow.
---
---
The Right Fit for the Large-Scale Challenges of Solar Energy Projects
Transformative
Utilize Digital Innovation for Real-Time Connection
Implement an all-in-one SaaS solution that holds all information from the start of the lifecycle through the final project completion. Gaining this increased accountability grants everyone the ability to operate with the same, correct information. Real-time data can help to alleviate issues, allowing them to be addressed more efficiently, at an accelerated rate and without severely impacting project cost.
Scalable
Reduce Risk and Scale with Ease
Apply real-time visibility into your resources for increased scalability as projects shift and churn. Leankor allows managers to view up-to-date availability to maximize resource loading and implement quick decisions as obstacles emerge or requirements change. This provides managers an ability to scale with ease, even out the workload and think agilely about the workforce for the entire project.
Flexible
Interconnect Organizational and Project Methodologies
Adopt a solution that seamlessly interconnects all methodologies. Many applications don't take into account that large-scale solar projects use a variety of methods to get the job done. Leankor works the way you want to work (Kanban, Lean, Agile, Gantt, Waterfall, hybrid and more).
Visual
Gain a 360, Control Tower View
Provide executive visibility for complete transparency and efficiency across the enterprise. Leankor's real-time, cloud-based solution provides high visibility that spans all teams over the multiple solar development stages. This 360 view gives insight into razor-thin margins and budgets, changing requirements, rapidly multiplying vendors and tracks progress throughout the lifecycle.
Collaborative
Unite Stakeholders, Teams and Team of Teams
Connect a multidisciplinary team of experts, stakeholders, contractors and field service workers. With Leankor's virtual solution, the potential for collaboration among individuals' increases, since they can now join efforts and capacities from anywhere to better respond to issues as they arise.
Reliable
Improve Data-Based Decisions
Employ the only work and project management solution that is 100% native to Salesforce. Leankor is built and housed on one of the most secure, trusted and reliable cloud platforms. This ability to update and store data in real-time is mission critical for informed decision making for reliable outcomes.
Effective
Increase Customer Satisfaction Levels
Realize on-time delivery every time for high customer satisfaction. With Leankor, organizations now have an opportunity to say goodbye to the days of siloed data, misinformation and delayed communication. Adopting a digital work and project management solution mitigates the risks that become the causes for delays and increases delivery satisfaction.
First Solar Reduced Pre-Construction Risks With Leankor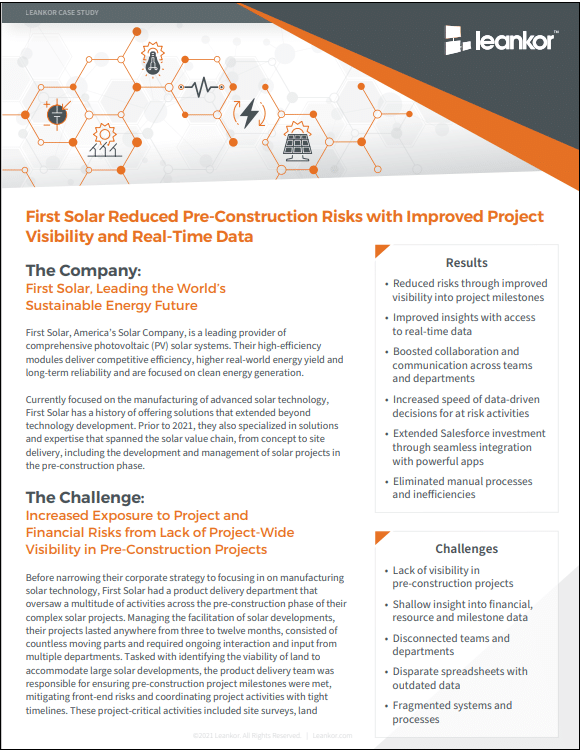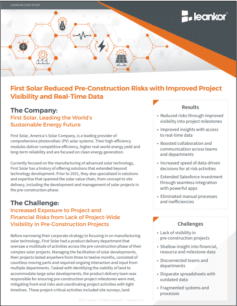 Learn how First Solar reduced pre-construction risks, improved project visibility and more with Leankor.
Link Every Phase.
Interconnect Your Projects and Teams in Real-Time.
Phase 1: Analysis and Financing
Leankor collects all the information and communication that evolves before permitting and ordering equipment begins, to ensure all the right pieces are in place to start.
Phase 2: Design and Supply Chain
Leankor helps managers oversee all aspects of the design and engineering progress and coordinate system component availability, materials delivery and on-time completion.
Phase 3: Construction and Permitting
Leankor mitigates risks and improves decisions with real-time data and collaboration. From sale to completion, all customer and project data is updated and accurate.
Phase 4: Operations and Maintenance
Leankor provides managers the insight they need into all operational, technical and reporting to ensure expected ROI over the entire life of the solar operation.
---
---
Transform Your Solar Projects with a Customer-Centric Solution Focused on Delivery Success
Ready to achieve optimal project results for outstanding customer satisfaction?
Start accelerating your delivery cycles to improve your revenue recognition now.
---
---
You're in good company.