Dreamforce 17 is another Salesforce conference that is now behind us but not easily forgotten. The entire Leankor team that attended was out of breath by the end of the 4 days after holding tons of meetings and presenting in the industry theater while engaging with Salesforce decision makers — and of course attending some of the evening festivities. Among all of this going on, it is hard to find time to actually take it all in and appreciate all that is happening at the moment.
Our Dreamforce 17 Drone Winner!!!First of all, we want to congratulate Sheela Hiremath from National Grid who is the proud new owner of an awesome drone that we had a draw for everyone that got scanned at one of our presentations. If you are interested in getting a drone for yourself, we are also giving away some mini-drones to anyone that is interested in getting a sneak peak meeting with one of our Leankor staff members.
That drone was a prize for being scanned at one of our 4 Industry Partner Theater Sessions in the main Dreamforce Expo building. If you did not get a chance to attend one of our sessions, below is a quick rundown each session and a link to the video recording for your viewing pleasure. We were very excited to have the fortune to have 4 speaking sessions at Dreamforce 17 this year. This has allowed us to showcase how some of our premier customers are leveraging the innovations that Leankor is bringing to the world of Enterprise Work Management. These customers were able to explain how their individual companies are solving the challenges around large-scale customer project delivery and implementation on a massive scale.
EWM Presentation from our CEO, Emilio Bernabei
This was the kick off for our Dreamforce 17 experience with our very own Emilio Bernabei giving an Industry Partner Session around our core solution and highlighting our 3 amazing customers that were also presented later in the week. Emilio explains the various use cases that some of our customers will be presenting in more detail in their individual presentations.
Solar Energy Session with Eric Potts from SunPower
SunPower was looking for a new single source of truth for all sales and project delivery information and they were able to find that by leveraging Salesforce, Leankor and other integrated apps. Eric Potts (VP of Commercial Operations) expands on how SunPower has been able to finally implement business processes across entire departments to successfully manage hundreds of large-scale energy projects and remove all of the roadblocks that cause these projects to run behind schedule, not be completed or overrun their budgets.
Manufacturing Session with Greg Lowe from Simbiotix.
Greg Lowe (expert project management consultant) was able to speak to the benefits that Molecular Devices is reaping from implementing Leankor into their company to better manage their project delivery work.  Molecular Devices is utilizing Leankor's innovative Kanban Card linked to Gantt Chart activities to truly manage the work required to deliver projects alongside keeping track of project timelines and resources.
Telecom Session with Mike Oliver from SOLUS Network Solutions
SOLUS network solutions is a premier telecommunications concierge company that has 250+ implementation projects on-going at any one time.  Mike Oliver (president) spoke to how Leankor and Salesforce together have made managing this number of implementation projects possible for their company.  Leankor has permeated throughout all departments at SOLUS to provide work management for sales, customer success, implementation and all work delivery components.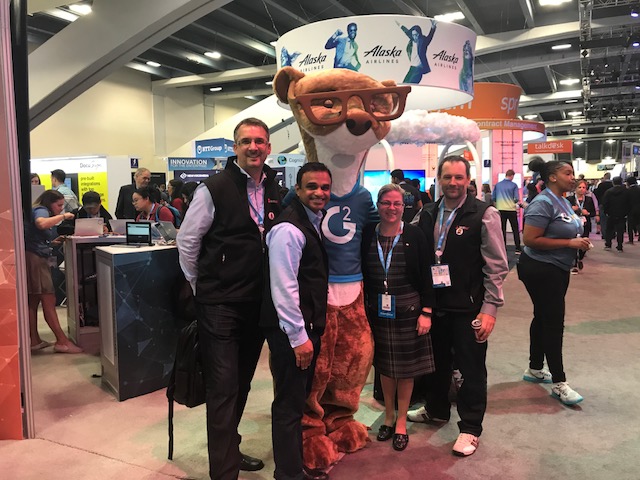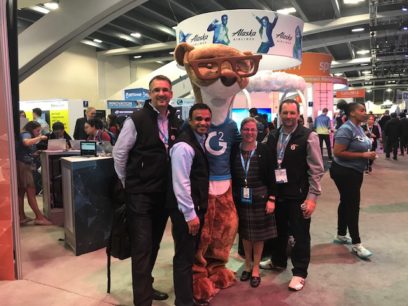 The rest of our week was just amazing! We met a lot of new people, had some great food and we even got a great photo with G2 Crowd's mascot.
So what's next?
Quite a bit, actually. We'll be globe-trotting for various Salesforce world tours and upcoming industry conferences around the world. Slides and notes from some of these helpful sessions are coming soon. And stay tuned for some exciting thought leadership and insights around enterprise work management heading into 2018!
We're interested in discussing how enterprise work management with anyone that wants to learn how it can benefit your company, so please reach out to us and we'll see if there's a fit for you to become our next big success stories.