Client onboarding is the process of introducing new clients to your firm in an effective and organized way. The process commences at order placement and continues up to three months or so depending on the complexity of the product. Effectively onboarding customers have substantially high retention rate, high cross-sell rate and low cost to serve than clients that are not onboarding. This is a tried-and-true strategy where customers that are properly onboarding tend to stay with the firm for a long time and spend more than other clients.
Project retention commences the time the contract is signed, and the onboarding team takes over the project. Several companies consider this strategy as an item that must be survived as much as possible. Onboarding sets up the kind of relation you need with your loyal customers throughout your firm's lifecycle. It helps build trust with new customers and to be relied upon throughout your business life. Prior to blindly starting your next move, take into account these five reasons why you should treat client onboarding as project management.
If you are a good project manager, you should understand that a feasible project has a clear start and end in addition to expected deliverables within the stipulated duration. Make sure your onboarding project has a clear scope of activities and a planned completion time. Ensure you document what will be implemented and what will not so that your clients can know what to get from you.
The handoff from successful sales to customer satisfaction may be the most interesting discussions your support and sales teams have. This handoff may be comparable to a project kickoff meeting that ensures that the stakeholders have all the particulars they need for successful client satisfaction. In case the handoff is not clear, your client onboarding project is at a risk of running awry, and this may immediately reduce customer's trust. If you use project management option, which integrates with CRM (Salesforce), for starters, Leankor, you could connect your undertaking to the opening, offering sales and support teams increased visibility to client's expectations.
As your business grows, you should come up with processes and options that can scale with your progress. Employing standard project management tools as well as an associated template makes the project onboarding process measurable and with a specific milestone. However, you shouldn't confuse standardization with automation. A typical project template offers a baseline of everything you want to effectively onboard a customer, with the capacity to incorporate new tasks and outcomes to match up with each client's needs.
As you begin the onboarding project, several changes are likely to emanate. For instance, a customer may have a new idea he or she would like to introduce or modify a feature they think isn't working as expected. Appropriate project management processes help you identify, record, and resolve these alterations, and keep your undertaking on course.
You need to know how much time and effort it costs your team to carry out the onboarding project. Also, you need to know which activity within the project takes the longest. When you treat customer onboarding as a project, with assigned timelines, resources, and time tracking, you can leverage the data you collect in a bid to optimize your future undertakings. You will be in a position to know whether you are charging enough, setting enough time for each activity, and unearth opportunities to streamline your projects. This will enhance customer retention and set you into profitability.
What satisfies an onboarded client?
Most businesspersons focus on this in terms of technical onboarding, where they get their users and clients go through the motions of getting up and running with their products instead of equating project onboarding processes with value delivery milestone. However, even after focusing on value addition and delivery, there's no universal description of a fully onboarded client; the definition is different for every firm. Since it's hard to nail it down to a simple definition, it is simple to consider that a customer is onboarded after achieving initial success with your products or services. In addition, you need to know the initial success your customer needs to attain when all players understand that the depth of use will evolve and stretch over their lifetime.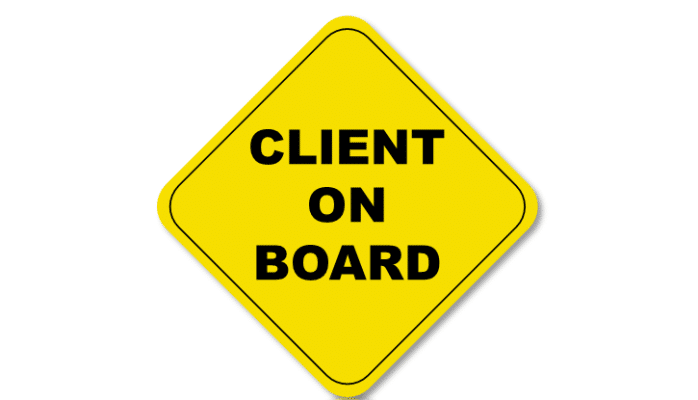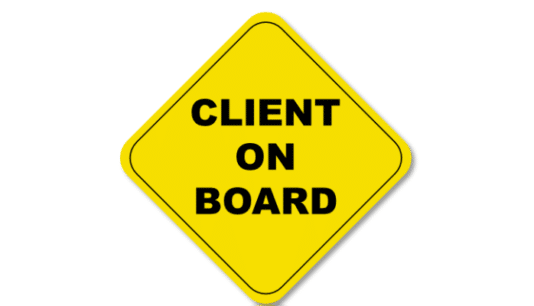 Here are some tried-and-true strategies to revamp your onboarding projects
How effectively your team onboards new clients really determines if you will retain them or not. If you want to maximize your growth, keep an eye on spotting issues in the process. Here are some strategies to get you started.
In a practical experience, your customers may know the products you sell, buy they might not know how to use them, features, side effects, and other parameters. Therefore, it is up to you to organize your team to train the clients. Come up with short videos and easy-to-read articles demonstrating step-by-step procedures on how to use the products you sell. Single out specific functions and breakdown how each fulfills a particular task. If you don't point out the function, then a customer may not understand the use of the product. Customer success counts on which person is using the product right. He or she may give up owing to frustration in case she or he finds it challenging using your product.
Customer support is an integral part of any successful business. It enhances customer experience, and they keep coming for more of your products. keep an eye on how your team responds when a client is stuck or has a question. Ensure that your clients are not left to fend themselves; provide prompt solutions to the problems they have. If possible, add a live chat on your website instead to the old-fashioned emailing and phone assistance.
If you are not using Twitter for customer support, you are missing a vast opportunity of expanding your business and reaching out your existing and new clients. This is one of the recommended ways of quickly offering help. Ensure you hire friendly and professional staff to do this job. You need a team that will work with clients, not against them. Rude support representative is worse than no customer service.
On offline engagements, initiate interaction with a greeting. However, this should also be applied online; receive all your customers with a good heart. Consider every start of the project onboarding process as an in-person event. You got a registration desk, an individual designated to welcome each person and swag bags. Then, you should develop the same process on the internet. Ensure accounts login is hassle-free, while offering bonus materials such as extra integration and eBooks. This will help them get started easily. Also, sending personalized messages is a great way of getting someone on board.
Your company may fall short by simply showing customers how your products work. You need to set milestones for them. In order to set achievable goals, your designated team must understand what a customer hopes to achieve with your product. Capture this info in your sales data. Set time to ask your clients, perhaps a simple email survey will work best. After you single out their specific goals, develop a backward plan to come up with a logical step-by-step procedure to help them meet these goals with your products. Post a focused checklist within the app and it will motivate and keep them on track.
Send personalized and useful content
Your product is not the center of the universe; clients have other pursuits that take up most of their time and attention. Therefore, they do not have the time to read crap and unfocused information. Therefore, you need to generate content tailored to solving their problems. However, avoid making every solution a product or service; be realistic.
For instance, if your company specializes in selling accounting applications, focus on offering more than accounting advice. Get to know what problems your product's users face. Perhaps they need hacks to plan their working schedules or hints to getting an attorney in the locale. When you provide business advice beyond your expertise, you'll become a trusted business advisor. More trust translates to increased earnings.
At times the new client onboarding process may be filled with glam and glitz. Users are excited of using your product, and even reach a few milestones. However, your stay in business and recurring revenue is highly dependent on a solid retention plan. Think of a way of engaging your customers regularly. Send follow up emails, or ask them to sign up for a referral program.
After making their initial purchase, send them thank you notes and gifts. This will bring them onboard, and help to maintain a loyal customer base. At all times remind them how your brand adds value to their lives. Call your users after some time to know how they are faring with your brand. Also, online surveys can really help to achieve this.
Show case your achievements
A powerful brand must have a strong success story. Clients are eager to know whether your product is making progress. Keep them updated by demonstrating success stories of other customers. This might be an efficient way of amplifying your brand and highlighting customer fulfillment.
Case studies are invaluable in telling the world how your brand is. Their purpose surpasses testimonials by showcasing real-life testimonies of how you meet your customers' needs and help them realize their ambition in life. Hold a survey with happy customers. Let them share their success stories and build a strategy to capture them. Come up with short videos or a case study. Regardless of the format, insist on your brand, solution, results, and customers' actions.
With the online, mobile app, and email engagements with clients, it is possible to use jump pages. They identify new members and customers to your website. Many companies have created special jump pages that are designed for new users. They provide easy-to-read instructions on how to navigate the company's products. Most of these pages have links that redirect new members to service pages and additional information.
Benefits of digital work management for client onboarding management
In today's technologically advanced world there are apps, programs and tools for everything.  On thing that many companies fail to find is a tool or application to help with client onboarding, and that is because they are not seeing it as project management but just task management.  Simple task management tools work well for the individual but break down when a group or team is using them because most do not have any reporting functionality.  This reporting aspect is what is needed when looking to improve any or all aspects of the new client onboarding process.  If you do not know how long it takes to complete activities, how many activities are being worked on at the same time or which activities are always running behind, then how are you able to figure out ways to improve that process.
By using a digital work management solution, you can easily achieve the five things that you should take into account when looking at client onboarding as project management.
Clear Scope –  By pre-building and utilizing templates within a digital work management tool, you can keep your onboarding consistent and only work to deal with the clients that have exceptions.
Improve Sales Hand-offs – Your work management tool should be connected to your CRM (salesforce, marketo, infusionsoft), so that all the customer data can easily be transferred to the onboarding project so there are no mistakes in the data.
Standardization – Templates make standardization simple but also using a software platform will mean data is entered more consistently into pre-populated drop down list and other fields.
Manage changes – Being able to track who did what and when means that there is more accountability as well as visibility into the onboarding work that is being completed.
Reporting – Simply put, if all the data is in the same place, from the sales to the completion of the new client onboarding process, it makes reporting on the lifecycle of a new client extremely easy.
A good work management tool will allows the end user to easily update and collaborate on their activities, while allowing team leads to easily assign new client onboarding projects to various team members and allowing managers to have clear visibility into all the metrics, analytics and reports in order to make informed decisions to improve the department.  With all members of an onboarding team working with in the same solution, it will be very easy to spot inefficiencies, dependencies and other areas that can be improved or reworked.  This will make your company's client onboarding management process continually improve over time and results in more satisfied customers in the short and long term.