Unique Challenges for Large

–

Scale Solar 

Development 

Projects

 

and the Digital Transformation Solution that Deliver

s

 
The number of 100 MW-plus solar projects is rapidly increasing in the U.S. and with that expansion comes the complex development of those projects. Large–scale design and construction projects are never easy to manage. However, the complexity of orchestrating collaboration among the many contributors whose deliverables are required to develop a project creates a unique set of challenges that can compromise delivery and more. These large solar projects require considerable investment, in both money and time. The last thing a project with that kind of funding and requirements needs is delayed that cause budgets to soar and timelines to drag. Especially delays that could have been prevented.  
One reason large solar projects are at risk is there are many distinct segments and phases within the ecosystem of solar power.  Solar projects also have numerous phases and each stage can be as, or more, intricate and complicated as the next. Projects start long before a shovel breaks ground. Financing, design and engineering are followed by permitting and sourcing modules, racking and the balance of system. Then there are the logistics of delivery, construction and commissioning and finally the ongoing operation and maintenance (O&M).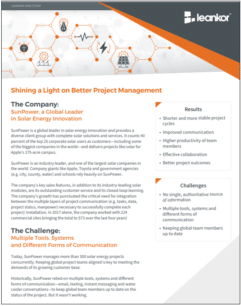 SunPower improved project collaboration and increased productivity resulting in shorter and more stable project life cycles. Download case study.
Monitoring Project Challenges Through the Phases 
Effective planning, managing and scheduling of each phase is critical to the project's success. The smallest glitch could cause detrimental delays. The solar development process has a long lifecycle, so disturbances in timelines can throw off the myriad of projects lined up in the pipeline. Since many complex tasks are required to develop a solar project, it is vital to keep them running on time, every time. 
 From site evaluation and feasibility studies to land and interconnecting agreements to financing and permitting, these crucial steps need to be tracked in real-time to ensure all the right pieces are in place to start. Since managers are juggling several activities, deliverables and stakeholders at once, a solution that can oversee all the design and engineering progress to ensure the right coordination between the internal departments becomes essential.  
Managers have enough to deal with when ensuring system component availability, checking varying and changing requirements, managing huge amounts of materials, as well as keeping up with rapidly multiplying vendors and contractors. The lack of a reliable, real-time, application to evaluate and track progress can, and usually will, create inefficiency, delays, raise costs and compromise delivery. As anyone developing solar projects knows, having a solution that provides support to the meticulous coordination involved is essential for the optimal performance of each team. This solution can help streamline processes to ensure on-time delivery and staying within budget. 
Real-Time Collaboration Transforms Workflow 
 When undertaking large–scale solar projects, it is essential to use an interconnected, virtual technology. Interconnection between departments is a necessary feature of any enterprise work and project management application. Different teams in the solar development process use different methodologies to manage their projects. Project management solutions for industrial enterprises should never force all teams to use the same process, this is essentially shoving a puzzle piece into a spot and hoping it works. To truly have project success, an application must work the way the teams want to work. It should effortlessly connect those teams together by interconnecting their preferred way of working. 
 That is why having an all-in-one application that connects and interconnects becomes mission-critical for solar developments. From sale to delivery, all the customer's information, communications, project history and status needs to be seen quickly and accessed easily from everyone working on a project. This data, being updated, current and connected, is fundamental for informed decision making and mitigating the need for costly rework.  
 The commercial and utility–scale solar development process also involves a multidisciplinary team of experts. Engineers, construction leads, contractors, investors, inspectors, attorneys, government officials and permitting, operations and regulatory specialists are just a few involved throughout the phases.  
A key piece to keeping projects on track is making sure individuals can participate in real-time collaboration. Creating a collaborative environment among all different teams helps provide support to teams that are overseeing long-term strategy, as well as the teams in charge of a specific set of requirements. With a virtual solution, the potential for collaboration among stakeholders increases since they can join efforts and capacities and better respond to issues or opportunities as they arise. An all-in-one application helps to increase preparedness for collaboration by offering an accessible virtual space where information can be shared and updated.  
Everyone involved in the value chain of a solar project is exposed to varying levels of risk. The goal of risk management is to mitigate costly issues and delays. Fostering excellent and easy-to-manage communication among stakeholders, teams and a team of teams, is a step in the right direction to managing project risk. If everyone operates with the same, correct information, issues can usually be addressed more efficiently, at an accelerated rate and without severely impacting project cost.  
360 View for Effective Transformation  
When projects involve as many stages with complex planning and managing as solar projects do, it is critical to have a 360, control tower, view of your entire organization. Leankor offers executives the complete visibility they need into every aspect of their projects in order to have full transparency into how each component is moving along. This comprehensive view allows for a type of situational awareness, that can spot issues before they become complications. It allows for tracking accountability at the root of these problems. Using a SaaS project management solution, like Leankor, supports this collaborative functionality among all stakeholders. Each stakeholder is now set-up to have personalized dashboards and reports for critical decision-making. 
Most importantly, managers need full access to the financials of the projects across the board. Solar projects have razor-thin margins, and it is imperative for decision-makers to be able to examine, compare and contrast cost breakdowns, variations in gross margins and forecasted revenue at any time in the project.  
 Not having this all-encompassing view is one critical misstep that can cause overwhelming problems from proposal to launch and beyond. It is also one that can be mitigated with the right solution. Through digital transformation for global enterprises, organizations now have an opportunity to say goodbye to the days of siloed data, misinformation and delayed communication. Adopting a cloud-based work and project management solution, like Leankor, mitigates the risks that become the causes for delays. Which in turn means increased budget costs and deferred revenue recognition. 
 Due to the exorbitant number of projects that are simultaneously happening and the number of people working on large–scale solar projects, managers need a type of situational awareness to ensure projects are running smoothly. They also need an application that runs on a powerful platform, like Salesforce. Salesforce is one of the most secure, trusted and reliable cloud platforms. Leankor is an application that is 100% native to the Salesforce platform, providing the ability to start and scale projects rapidly, improve performance and productivity, all while providing the utmost security and stability. Only solutions that provide this type of data security and productivity should be trusted to monitor and manage your large–scale solar projects.  
 Learn more how Leankor is a dynamic work and project management solution that helps your teams find reoccurring delivery success for utility-scale and large commercial solar projects.