Digital Transformation, Business Continuity and Revenue Recognition. How Real-time Workflows Across Your Enterprise and Teams Can Improve Your Bottom-Line.
When COVID-19 knocked on the foundations of many industrial organizations, some companies realized that working remotely did not affect how their employees worked day to day, while others have faced a new business changing reality—a need to be able to perform from anywhere at any time and stay fully connected. But the question many are asking is, how can global enterprise industrial operations streamline their highly complex processes, workflows and teams to a remote model?
Digital transformation has been changing the way we work over the last decade.  However, many companies are still using siloed systems and manual, cumbersome project management and tracking tools. More times than not, they have the intention of updating their processes and systems "at some point", but the time never seems right. What the coronavirus pandemic showed us is that many organizations need to catch up with digital transformation now, not later. Read the first part of this series Building a Plane While in Flight: How to Remotely Tackle a COVID-19 Business Continuity Crisis in Your Enterprise to learn more about why now is the time to transition to a virtual workflow.
Centralizing Workflows for Increased Situational Awareness
Global enterprises need to be able to connect and perform work from remote places, through one, central, all-encompassing solution, on a daily basis. It is nearly impossible to orchestrate a global enterprise without real-time collaboration, up-to-date information, detailed project reporting and the ability to roll all projects into one master project for a 360, control tower, dashboard view.
The resounding resolution is to implement a work and project management system made specifically for industrial enterprises and their unique challenges. The most successful organizations use one application that tracks, organizes and updates projects, tasks and communications as they happen, no matter where they happen, so they can boost situational awareness over concurrent projects and drive strategic decisions.
Going "into the office" has dramatically changed over the past few years. Organizations that not only accept, but work towards, remote workforces begin to see an opening up of better workflows and productivity.  The remote workforce has become a staple in the workplace. As this particular workforce grows, so does the need to be able to work on the go. To keep up with today's faced paced environment, stakeholders and managers need to be able to engage with their teams and update their projects using their desktop or smart phone applications.
Colleagues, teams and vendors can collaborate, discuss, debate and make vital decisions in the moments they are needed most. From simple status meetings to large kick-offs, their solution should recognize and address the challenge of teams using different project management and organizational management methodologies across the organization, whether in the office, on the plane, at home or working onsite.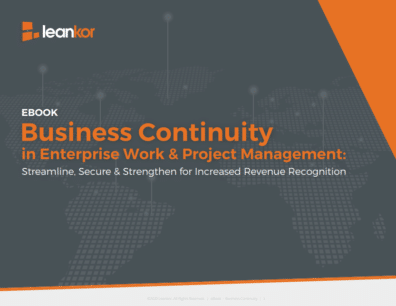 Streamline, secure and strengthen your organization for increased revenue recognition. Download the Business Continuity eBook to learn more.
Connection and Collaboration for On-Time Completion
Information moves fast but it can change even faster. Virtual workflows create a sort peace of mind during a project lifecycle. When you implement a digital solution, tasks seamlessly flow throughout the organizations and teams can effortlessly collaborate from anywhere in the world. With a real-time application, users are not left wondering if data or statuses are outdated as they try to track planned work. Organizations do not need to worry about remote individuals having the information they need, when they need it, since the application is updated for all users in real time.
At the heart of any project is a timeline with milestones that are imperative to a delivery's success. Any small glitch can quickly grow to a large risk that becomes an even bigger project risk- delivery delay. Risks can be found anywhere and often affect the entire project chain and lifecycle. Bottlenecks in one area can impact departments throughout the organization, including supply chain management, inventory management and labor resources. If any part of the project cycle and/or execution methods are erratic, your organization is wasting resources, time and money on rework.
The ability to prevent or circumvent these risks becomes a vital component of any project management solution. With a virtual application, executives and managers can monitor projects and resources at any moment from anywhere. This instant availability can mean the difference between a minor interruption or a serious problem.
Even more detrimental, when delivery is delayed, so is revenue collection. Since the timing of recognizing revenue is often delivery, postponements in these critical milestones create a revenue block. Expenses don't decrease from holdups, they increase, every day it is delayed. Rework, incorrect information, outdated data or even a missed correspondence can become a costly blockage in the project chain. Ultimately, all of this leads to dissatisfied customers and poor margins.
In today's remote working environment, with teams separated by location, they need a solution that brings them all together, in real-time, virtually. With the right application implemented, everyone from executives to coordinators, in every part of the world, will be able to visualize how quickly their work is moving through the process using dependable lead and cycle time metrics. A significant improvement is the need for rework is mitigated, often eliminated, when teams are using an application that keeps all members updated with the latest information. Users can also quickly find real-time information regarding if they are on target with their completion goals, including probability of achieving planned delivery dates. Insight into how their work is moving through all stages of the cycle is also available so they can see where bottlenecks are occurring, allowing them to remove impediments to value delivery and keep value flowing.
Synchronized data allows decisions makers the critical information they need to reliably forecast, eliminating any surprises from incoming demand. It also allows for the insight into the impact of unplanned work. Users can leverage their enterprise work and project management solution to rapidly scale to ensure they can seamlessly respond to increased demands, growing project workloads and the need for additional resources. The visibility into the current and accurate utilization of all workers, no matter where they are located, allows managers to maximize their resource loading, scale more rapidly and decrease completion cycles.
Without the ability to perform comprehensive data analysis, data is just untapped information. Data is the foundation of decision making but proper analysis is the informed story building the right decisions. Enterprises need a partner that maximizes the value of its data. They need a modern analytics platform that incorporates effective data governance and ensures that data is consistent and trustworthy. A digital solution that empowers users at every step with enterprise-grade data security and deployment flexibility. And this data must be mobile as well, no matter where a user may be, when that remote user needs information it must be available.
Improved Process for Improved Bottom Line
One of the biggest obstacles in recognizing revenue faster or planning an order-to-cash strategy effectively is limited or incorrect information. The common source of this problem is the cross-functional nature of management and disparate systems. When departments from across the company, and possibly globe, need to work seamlessly, and in the moment, without a digital solution it can be difficult to implement. There are a million ways to reach someone and by the time you hear back, everything could have changed. There are also a myriad of details that go into every part of a project and if records are kept in several different systems that don't connect, incorrect information could be serving as a cornerstone for your delivery.
Companies should strive to employ a project management solution that allows them to optimize their revenue or order-to-cash cycle.  Enabling a work and project management system that cannot only manage, organize and track projects, but also helps leaders measure the effectiveness of their procedures and system to make significant improvements to their processes and timeliness is vital in quicker revenue recognition. A virtual solution is also vital to accommodate information that is being updated from anywhere, in real-time, and allows all decision makers to have access to same, accurate information.
Unify Industrial Processes Globally with A Solution That Works the Way You Do
Imagine a world where every single component of your large-scale projects come together to ensure on-time delivery, every time. It's not luck. It's implementing the right digital work and project management solution.
Leankor is a SaaS enterprise work and project management solution developed to address the specific needs of large, long running and complex industrial projects. Leankor enables mission-critical functionality and is easily customizable to fit the unique needs and methodologies of each enterprise. To ensure workflows are not compromised, it translates and adapts different project management and organizational management methodologies and enables complete visualization through Kanban boards, Gantt charts and personalized dashboards. It fluently enables hand-offs that flow across individuals, teams, departments and third-party contractors in the supply chain or customers in the supply chain.
Not all project management solutions are created equal and one size fits all should never be a standard. The solution you select should be built to work the way you want to work and you should not need advanced certificates or degrees to understand and use it.  Designed around an intuitive user experience with a visually dynamic, easy-to-learn and simple-to-use interface, Leankor is intended for individuals of all levels. Onboarding is quick, easy and your organization can be up and running in no time.
Leankor is a SaaS solution natively built on the Salesforce Cloud, one of the most trusted and reliable platforms. Due to this partnership, Leankor is able to improve performance, productivity, security and stability. The Salesforce platform creates a distinct customer 360 advantage by extending valuable platforms like Service Cloud, Community Cloud, CPQ, Field Service Lightning, MuleSoft and QUIP. Salesforce has also built an industry leading AI platform, Einstein AI and continues to invest in boosting their capabilities through ongoing acquisitions of some of the best analytics applications on the market, i.e., Tableau. The coming together of these best in class applications creates a powerhouse solution in Leankor
The remote workforce is here to stay. From users that travel extensively to those that simply work outside of a traditional office, Leankor addresses the diverse needs of growing enterprises with a solution that features a cloud-based application for remote desktops as well as for phones when on the go.
Proven to deliver bottom-line results, Leankor has been implemented in some of the most renowned and reliable Fortune 500 companies in the world. Leankor's solution serves industrial enterprises in Manufacturing, Construction, Solar, Energy and B2B Telecom with additional emphasis on R&D and product launches for Biotech and Pharma.
Start your transformation today. Request a consultation and a demo now by calling 1.888.532.6567 or email us directly. You can also watch our instructional video to learn more.